Case story
Canadian Airport Lights the Way to Increased Business
In recent years, Niagara District Airport (YCM) had experienced annual operational deficits of $100,000 to $150,000. While the shortfalls were covered by municipal grants to the tune of $250,000 a year, the commission's goal was to make the airport self-supporting so the grants would no longer be needed or could be used to fund capital improvements. The commission concluded that the airport would need to make extensive infrastructure improvements to attract business and increase traffic.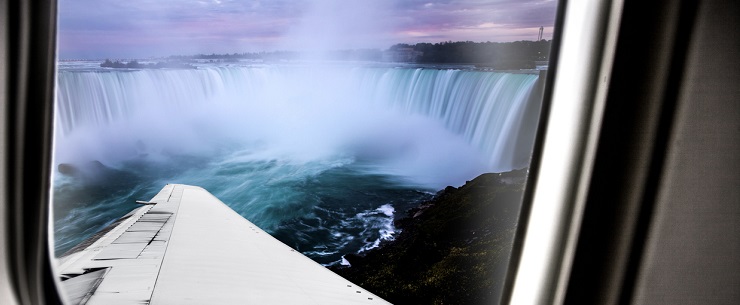 The commission identified three revenue-generating opportunities: leasing land out for construction of privately owned hangars, attracting aviation-related businesses to the airport and developing commercial air service business. New land leases alone are expected to bring in $100,000 to $150,000 of additional revenue. Infrastructure improvements needed to enable the new ventures included the construction of access roads to open up 10 acres.
To attract commercial carriers and attendant passenger traffic, the airport undertook extensive landside and airside improvements. The main 5,000-foot asphalt runway was reconstructed and is able to handle Boeing 737 or Airbus A320 aircraft. A new parallel taxiway was built to increase efficiency and safety for aircraft maneuvering to and from the main runway.
A new 6,000-square-foot terminal was constructed (nearly triple the size of the previous facility), and the parking lot was expanded. To provide airfield safety and security, perimeter fencing with new gates and card reader access control was installed. LED lighting was installed on the runways, taxiway and apron, as well as in landside parking and roadway areas.
A Canadian first
The Niagara District Airport is the first airport in Canada to light its runway, taxiway, and apron with LEDs. The airport's previous lighting system was "old and nearing the end of its life," says Doug Falkins, senior engineering licensee for electric consultant Associated Engineering.
Obsolete low-intensity approach lights were replaced with omnidirectional approach lights. New runway edge lights were installed as well as precision approach path indicators (PAPI) and illuminated windsocks. All the edge lights along taxiways A and B and the apron were updated, and the flood lighting on the apron was upgraded. LED lighting on the new Taxiway C was installed, and a modern touch-screen control system was added. On the landside, LED lighting was installed in the parking lot and along the entry and service roads.
The new lighting system, powered by ADB SAFEGATE Solutions' Advanced Power Supply (APS), was projected to reduce the airport's electric expenses by fully 90%. And it's already living up to the high expectations. According to airport manager Len O'Connor, the airport's bill for airfield and terminal lighting has dropped from $1,000 per month to $100 per month. "It's a considerable cost savings," he raves.
Sixty elevated medium-intensity runway edge lights and 131 elevated taxiway edge light fixtures run on four circuits. The APS system, explains Falkins, takes advantage of the efficiencies inherent to LED lighting. For example, a standard constant current regulator (CCR) system would have required one 7.5-kilowatt regulator to light the runway; the APS system is able to light the runway with two 2-kilowatt regulators (one is a backup in case of a power supply failure that would keep half of the lights on).
"In other words, a standard CCR system provides more capacity than you need for an LED system," Falkins notes.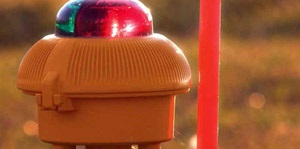 In addition to supplying the APS system and LED fixtures, ADB-SAFEGATE Solutions also supplied the airport with a prefabricated field electrical center (FEC) measuring about 10 by 20 feet to hold the APS system and related electrical components.
The APS is housed in a compact 19-inch mountable rack enclosure, notes Nancy Majoulian, national sales manager for ADB SAFEGATE Solutions. "Using a mountable rack and stacking the four units saved a lot of space, thus saving cost on the FEC and the installation required," she explains.
The old system was kept in a janitor's closet, Falkins contrasts. Moving all of the electrical equipment into its own building and isolating it from the terminal was a marked safety enhancement, he adds.
Falkins expects the new system to operate trouble-free for about 10 years, saving the airport a considerable amount of money on light bulbs alone. While the standard incandescent bulb is rated at approximately 2,000 hours, an LED light is rated at 100,000 hours.
"When we moved into the electrical systems, we didn't know what we would run into," recalls Ruedi Suter, chair of the Niagara District Airport Commission. "All of these electrical installations are approximately a half-century old and did not meet today's standards. It ended up we had to replace the entire infrastructure, which raised the cost from a half-million dollars to $2 million. But we have ended up with a state-of-the-art LED lighting system that will save energy and money in the future."
Great Expectations
Officials anticipate the airport will reap substantial near-term economic benefits from the extensive infrastructure and facility upgrades.
"Our niche market goal is to be a regional feeder airport attracting traffic to and from facilities and attractions throughout the Niagara region," Suter explains, enthusiastically detailing potential business from a new convention center and a tourist trade of 12 million annual visitors.
"Some of these visitors are people with higher expectations and higher incomes who come in to wine and dine," he continues, noting the area's 60 wineries and 40 golf courses. "There's a lot going on here, and people will certainly use the airport if the services are available."
One plan is to establish regional shuttle service across the lake to Toronto Island Airport, which is served by Porter Airlines and Air Canada. "If you drive from Toronto, it takes around two hours in traffic; with a shuttle, you could make the trip in 10 to 15 minutes," Suter explains. Other plans include service to New York, Boston, Chicago, Ottawa and Montreal.
An impact study conducted by the airport commission in 2008 estimated the economic benefit of the airport to the Niagara community at $18 million per year. Since the recent upgrades, the economic benefits are expected to increase to $30 million in 2012 and $60 million by 2017.
"Our long-term goal as a commission is to run the airport much more like a business than it has been run in the past," emphasizes Suter. "We want to operate like a board of directors who understands what the airport's business future should look like."
ADB SAFEGATE is a leading provider of intelligent solutions that deliver superior airport performance from approach to departure. The company partners with airports and airlines to analyze their current setup and operations, identify bottlenecks, and jointly solve them using a consultative approach that enables airports to improve efficiency, enhance safety and environmental sustainability, and reduce operational costs. Our integrated portfolio includes solutions and services that harmonize airport performance, tackling every aspect of traffic handling and guidance, from approach, runway and taxiway lighting, to tower-based traffic control systems, and intelligent gate and docking automation. ADB SAFEGATE has more than 900 employees in more than 20 countries and operates in more than 175 countries, serving more than 2,000 airports.
AFL CANADA CUSTOMER IMPLEMENTATIONS LED NIAGARA DISTRICT AIRPORT YCM